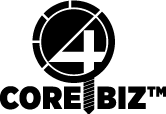 Coming Soon!
This site is coming soon!
Please contact us today to find out more.
954-249-5540
About Us
4CoreBiz, LLC. was created to fulfill a missing component in the market. While there are many good quality core bit manufacturers, many make core bits for the general market and spend little time to specialize the bits for the professional using it.
Our team of experts have extensive training and tools to ensure that each customer receives a full evaluation of their coring needs to ensure that they are getting the optimum performance out of their core bits and machines.
Owner and Operator Al Sanders heads the team with expert knowledge of the Coring Industry along with the machines and tooling that make it what it is today and what it will be tomorrow. Al screens each order to ensure quality control and customer satisfaction is always at the forefront of our business.
We look forward to helping you continue to grow your business and making your life a little easier with precision tooling to help support your excellent service.
Our Mission
Our mission at 4CoreBiz, LLC. is to provide expert knowledge, the highest quality tooling, and the best customer service experience to our ever loyal and growing customer base.
[contact-form-7 id="7962″]